Cut the cord on your elevator phone line!
Say goodbye to traditional elevator phone lines! Switch to a cellular now and save 35% or more!
If you currently pay for an elevator telephone line you are paying too much. Our cellular elevator phone line is easy to install and works with all elevator telephones and monitoring services. Why pay the expensive cost of telephone landlines when we can install a cellular elevator telephone line that is less expensive and more reliable than your existing landline service? MyLinkLine can easily provide a complete cellular installation that will result in immediate savings.
Traditional landlines are going away and you can count on the reliability of cellular elevator phone lines to maintain a communication path between your elevator phones and the monitoring service. You will also receive the benefits of increased reliability and substantial savings over conventional monthly landline charges. For additional dependability, all units include a battery backup in the event of a power outage.
Questions? Call us for more information at 1-800-862-4001
We use only the best cellular networks
AT&T   VERIZON   T-MOBILE
MyLinkLine Communications has successfully secured nationwide cellular agreements with all major network providers allowing us to offer comprehensive nationwide cellular solutions. To ensure top-notch service quality and cost-effectiveness for our elevator phone line, we have developed an exclusive network coverage scoring system. This enables us to evaluate the building's location and determine the ideal network for that specific area. By leveraging this technology, we can provide a reliable phone line at the most competitive monthly rates.  Request a quote now and get a reliable cellular elevator phone line along with substantial cost savings.
MyLinkLine incorporates the advanced FirstNet® cellular technology, ensuring reliable connectivity and exceptional voice quality, even in challenging environments.
Introducing the nationwide communications network designed exclusively for public safety, FirstNet® – a service proudly offered by MyLinkLine for our elevator cellular phone lines. Developed by AT&T and first responders, FirstNet® ensures unparalleled connectivity, especially during unforeseen events like natural disasters. With AT&T FirstNet®, our elevator cellular phone lines will always get priority access across LTE – Band 14 spectrum, along with AT&T's comprehensive commercial LTE spectrum bands.
Contact us today to include FirstNet® with your elevator cellular phone lines subscription and ensure your connection remains steadfast in critical situations. At MyLinkLine we are committed to empowering America's first responders with the best elevator communication solutions available.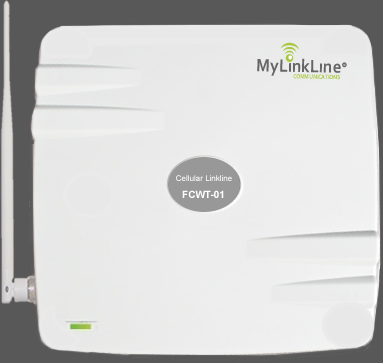 2 RJ-11 ports
DTMF 2'nd dial out
Supports 1 SIM Card
SIM card support
NI-MH battery (3.6V,1000mAh)
TNC Connector with GMS antenna
Power input: 12V,0.5A
Connection mode: RJ-11 phone socket
Power connector: US or European
P15 FCC compliance – UL Rated
Air Interface – GSM 4G LTE
RF Frequency – 800MHz/1900Mhz
Operating Condition – : -10ºC ~ 50ºC
ASME A17.1 Compliance
Strong cellular phone signal
Easy installation
Supports call waiting and forwarding
Make and receive calls
No phone line needed
Excellent voice quality
Back-up battery
(48hr stand-by / 4hr talk time)
Simple operation
Long product life
Powerful signal reception
Clear voice communication
Elevator Code Compliant
Works with all elevator telephones and monitoring services
Cellular Connect™ – Lifetime Warranty
We stand behind the quality and durability of our cellular elevator phone line units. In the rare event of any issues, we promise to promptly correct or replace the unit free of charge. At MyLinkLine, we believe in delivering high-quality solutions that are built to last a lifetime. ***
What is the cost savings of switching my elevator phone line to cellular?
MyLinkLine provides a cost-effective solution for providing ASME, and IBC-compliant voice communications to your elevator and emergency phones without the cost of expensive traditional phone lines.
On average our customers save 35% or more on monthly phone line fees. The cost savings of cellular elevator phone lines will vary from country, state, providence, and special taxing districts that may assess various taxes on wireless communication services.
For example, some localities require wireless carriers to collect a fee for 911 funds while others may require electronic waste recycling fees on all cellular devices.
As the #1 full-service elevator cellular landline provider, MyLinkLine is the only company in the industry with a team focused on handling both new and existing equipment installations. For a free pricing quote please contact us at 800-862-4001 or complete our online cellular elevator phone line quote form and we will determine your monthly fee including all applicable costs, discounts, and credits.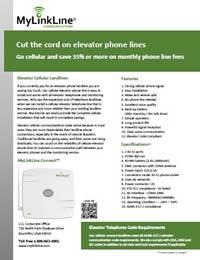 Six compelling reasons to opt for cellular elevator phone lines over traditional landlines
Embrace the Future: Traditional Landlines Are Phasing Out

The era of traditional phone lines is gradually coming to an end. The Federal Communications Commission (FCC) has given the green light for major telephone services to discontinue their landlines, with a target date of August 2, 2022. Many prominent providers have already made the shift toward cellular networks. AT&T, for instance, has announced its plan to reduce its copper infrastructure by 50 percent by 2025. If you're looking for a reliable and future-proof communication solution, traditional landlines no longer fit the bill.
Cost-Effectiveness: Escaping the Rising Expenses of Landlines
Long-term reliance on traditional landlines can prove costly. According to the U.S. Bureau of Labor Statistics, landline costs have surged by 36% over the past decade, and projections indicate a potential increase of up to 75% over the next five years if current trends persist. In contrast, cellular phone lines offer a more cost-effective alternative, making them an economically savvy choice for the future.
Enhanced Safety: Cellular Phone Lines for Elevators
Safety is a top priority, especially in elevator systems. Most elevator companies now recommend using cellular phone lines due to their reliability. Traditional landlines are susceptible to communication disruptions during power outages, making them less dependable in crucial situations. In contrast, cellular connections remain more robust, even in the face of natural disasters. Activated cellphones emit radio waves as they search for a tower signal, potentially serving as a life-saving beacon for disaster victims, guiding rescuers to their location.
Seamless Integration: MyLinkLine Works With All Elevator Telephones
MyLinkLine's Cellular Connect™ is designed to seamlessly integrate with all types of elevators, whether the telephone is already installed or are built into existing elevator car operating panels. This compatibility ensures a smooth transition to cellular communication without the need for extensive system modifications.
Compliance with Elevator Codes: MyLinkLine Cellular Phone Lines
Safety compliance is critical, particularly in elevator communication systems. MyLinkLine has a decade-long track record of installing emergency cellular phone lines that meet and exceed code requirements. Our products adhere to ADA, ASME, ANSI, and IBC codes, as well as any relevant local regulations, ensuring the highest standards of safety and accessibility.
Convenience and Swift Installation
Why endure the hassle of waiting for telephone companies to install traditional landlines, along with additional installation and activation fees? With cellular elevator line interfaces offered by MyLinkLine, installation is quick and straightforward. These cellular phone lines can be conveniently installed in the elevator machine room, on top of the elevator car, or in the building telephone room. General contractors and property managers no longer need to wait, as MyLinkLine can have cellular phone lines up and running within 24 hours, available for installation nationwide.
Make the smart move to cellular phone lines for your communication needs and elevate your safety and efficiency to new heights. If you have questions regarding: What type of phone line is needed for the elevator? How does an elevator phone line work? How do you test an elevator phone line? Can an elevator phone line be VoIP? Please visit our resource page or contact MyLinkLine today to experience the benefits of modern cellular technology in elevator communication systems.
I do not hesitate to write an excellent review for MyLinkLine. For over 10 years they have provided our elevator cellular landlines and monitoring service. They go above and beyond to keep you connected and happy. MyLinkLine is an excellent choice
Over the course of several years, the phone company had been consistently overcharging  for our elevator phone landlines. However, we made the decision to switch our elevator phones to cellular, resulting in remarkable savings of over 60% in monthly fees.
We made the switch from outdated landlines to cellular with ease. The installation process was straightforward, and we are delighted to report that the phones have been functioning flawlessly ever since. Our overall experience with MyLinkLine has been exceptional.
If you discover a lower price for an identical cellular solution, simply present the lower price at the time of purchase from MyLinkLine, and we will match it.*** We provide the most competitive rates and offer volume discounts.
WANT AN EXTRA 50% OFF YOUR FIRST PURCHASE?
Complete the online quote today and we will discount activation fees by 50% off the original price!
***This is a limited time promotional offer***