Finding out how much you could save on your elevator phone monitoring is easy. Why wait? Get a fast online price quote today!
To obtain a formal price quote, kindly complete our online form. In addition, we will send you our elevator phone monitoring datasheet for your reference. If you have any questions or prefer to speak directly with a MyLinkLine sales representative, please don't hesitate to call us at 800-862-4001.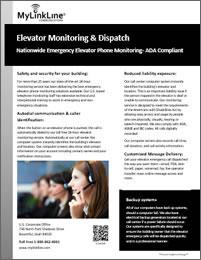 Elevator Monitoring | Frequently Asked Questions
Why is elevator phone monitoring necessary?
Code regulations require that elevator telephones be connected to a monitored telephone number 24 hours a day. ADA compliance also mandates that telephone monitoring services must not rely on voice communication and must be capable of handling emergency calls from individuals with disabilities. Our state-of-the-art 24-hour monitoring service ensures the best emergency monitoring solutions available, with well-trained staff to assist in both emergency and non-emergency situations.
Can elevator telephones be programmed to call 911?
While elevator telephones can be programmed to dial 911 for emergency dispatch, it is generally discouraged. Most 911 dispatch centers prefer that elevator telephones do not tie up emergency lines with non-emergency or prank calls. Additionally, fines may be imposed for dispatching emergency personnel to non-emergency situations. Therefore, we do not recommend relying solely on 911 for answering elevator telephone calls.
Does your call center identify the location of emergency elevator phone calls?
Yes, our call center's computer system instantly identifies the building's elevator and its location when an emergency call is received. This is particularly important for individuals who are deaf or unable to communicate verbally. Our monitoring service is designed to meet the requirements of the Americans with Disabilities Act (ADA), as well as ADA, ASME, and ANSI codes.
Can MyLinkLine monitor elevator phones purchased from another company?
Absolutely. We can monitor and reprogram elevator phones from any manufacturer, including those already built into existing car operating panels. No additional equipment is required for our monitoring services.
Do you charge additional fees based on the number of calls made from the cellular phone line?
No, we do not charge additional fees based on the number of calls made from an elevator phone line.
Elevator Phone Monitoring
Thank you for your kind words. We understand the importance of providing exceptional elevator phone monitoring service to our valued customers. Your satisfaction is our top priority, and we remain dedicated to delivering high-quality and reliable solutions.
The elevator phone monitoring service exceeded my expectations. Prompt response times and clear communication ensured our tenants' safety. I highly recommend MyLinkLine Communications!
I'm impressed with MyLinkLine's elevator phone monitoring system. The easy-to-use interface and reliable connectivity offer peace of mind. Excellent customer support too!
MyLinkLine's elevator phone monitoring solution is a game-changer. Quick emergency assistance and regular system checks guarantee reliability. An essential service for any building.
Last chance to complete an online quote and we will give you the first month of monitoring service at no cost!
***This offer expires in 3 days***