Frequently Asked Questions
Please feel free to explore the provided links below to find answers to frequently asked questions. If you are a new customer of any of our services, we recommend visiting the resources section on our website. In case you still have unanswered queries, kindly click on the "contact us" link above, and our team will be happy to provide further assistance.
Cellular Phone Lines | Questions & Answers
Does an elevator need a dedicated phone line?
Elevators do require dedicated phone lines. Our cellular phone line solution allows for significant cost savings compared to traditional landline charges while still meeting the requirement for a dedicated phone line.
Is cellular service reliable?
As our primary focus is life safety, we understand the importance of reliable signal coverage.
MyLinkLine Communications has successfully secured nationwide cellular agreements with all major network providers allowing us to offer comprehensive nationwide cellular solutions.
To ensure top-notch service quality and cost-effectiveness for our elevator phone lines, we have developed an exclusive network coverage scoring system. This enables us to evaluate the building's location and determine the ideal network for that specific area. By leveraging this technology, we can provide reliable cellular phone lines at the most competitive monthly rates. Request a quote now and get reliable cellular elevator phone lines along with substantial cost savings.
Is it possible to program your cellular phone lines to a different monitoring service?
Absolutely. We can program your phone line to the  monitoring service of your choice and also provide cost-effective monitoring solutions
Do your cellular phone lines work with all elevator phones?
Our cellular elevator phone lines are easy to install and works with all elevator telephones and monitoring services.
Do you install cellular elevator telephone lines?
Yes, we do. Our Cellular Connect device is easy and quick to install, seamlessly integrating with existing emergency phone equipment. Additionally, all units include a battery backup for added dependability.
Why do you need the building address to quote cellular phone lines?
The cost of cellular service varies depending on factors such as location and applicable taxes imposed by different jurisdictions. MyLinkLine collects and remits all relevant taxes.
Do you charge additional fees based on the number of calls made from the cellular phone line?
No, we do not charge additional fees based on the number of calls made from an elevator phone line.
What is your warranty on your cellular phone line device?
We stand behind the quality and durability of our cellular elevator phone line units. In the rare event of any issues, we promise to promptly correct or replace the unit free of charge. At MyLinkLine, we believe in delivering high-quality solutions that are built to last a lifetime. See warranty page for complete terms and conditions ***
Elevator Phone Monitoring | Questions & Answers
Why is elevator phone monitoring necessary?
Code regulations require that elevator telephones be connected to a monitored telephone number 24 hours a day. ADA compliance also mandates that telephone monitoring services must not rely on voice communication and must be capable of handling emergency calls from individuals with disabilities. Our state-of-the-art 24-hour monitoring service ensures the best emergency monitoring solutions available, with well-trained staff to assist in both emergency and non-emergency situations.
Can elevator telephones be programmed to call 911?
While elevator telephones can be programmed to dial 911 for emergency dispatch, it is generally discouraged. Most 911 dispatch centers prefer that elevator telephones do not tie up emergency lines with non-emergency or prank calls. Additionally, fines may be imposed for dispatching emergency personnel to non-emergency situations. Therefore, we do not recommend relying solely on 911 for answering elevator telephone calls.
Does your call center identify the location of emergency elevator phone calls?
Yes, our call center's computer system instantly identifies the building's elevator and its location when an emergency call is received. This is particularly important for individuals who are deaf or unable to communicate verbally. Our monitoring service is designed to meet the requirements of the Americans with Disabilities Act (ADA), as well as ADA, ASME, and ANSI codes.
Can MyLinkLine monitor elevator phones purchased from another company?
Absolutely. We can monitor and reprogram elevator phones from any manufacturer, including those already built into existing car operating panels. No additional equipment is required for our monitoring services.
Do you charge additional fees based on the number of calls made from the cellular phone line?
No, we do not charge additional fees based on the number of calls made from an elevator phone line.
Elevator Phone | Questions & Answers
Are emergency phones required in elevators?
Yes, emergency elevator phones are required in all public elevators in the United States. Specific system requirements, including those for the answering service that responds to emergency calls, can be determined by referencing our code database, which provides information organized by state.
Are the elevator phones you sell ADA compliant?
The elevator phones we sell fully comply with ADA, ASME, ANSI, and IBC codes, in addition to meeting all other relevant state and local requirements.
Do you sell proprietary elevator telephones?
At MyLinkLine, we prioritize our client's long-term interests by exclusively using non-proprietary phone equipment with a proven track record of durability, reliability, and ease of service. Our approach ensures that you have all the information needed to make the best decision for your specific needs. Trust the MyLinkLine way for a reliable and flexible elevator telephone solution.
What are the power requirements for elevator telephones?
If you choose a phone with a Cellular Connect device, we will require a 110-volt AC duplex outlet. While most of the elevator phones we offer are line-powered, some may require line power. If you're uncertain about which model would work best for your elevator system, we can assist you in finding the appropriate one.
What is the repair response time for elevator phone issues?
We strive to make most repairs on the same day or the next business day. In situations where immediate repair is necessary, we can even provide a loan phone while the repair is being carried out.
How long does it take to install a new phone?
Typically, we can install a new phone within two weeks of receiving payment and a signed monitoring agreement. However, we also offer rush service to accommodate urgent situations such as elevator inspections or emergencies.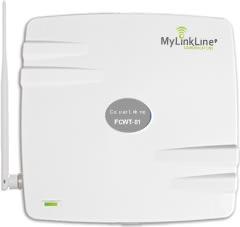 Elevator Phone Lines
Go cellular and save 35% or more on monthly phone line fees. If you currently pay for an elevator telephone line you are paying too much. Our cellular phone lines work with all elevator telephones and monitoring services. To learn more click on the link below.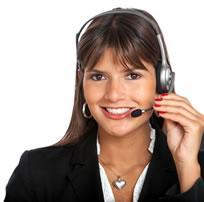 Elevator Phone Monitoring Service
Our monitoring and dispatch center has been delivering professional service for over twenty years. Our staff has extensive technical and interpersonal training to assist in emergency and non-emergency situations. To learn more click on the link below.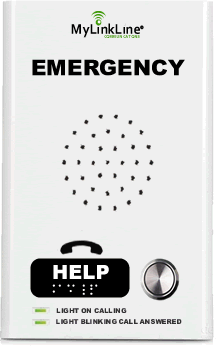 Emergency Elevator Phones
MyLinkLine will only install elevator telephones that meet code requirements. We also comply with ADA, ASME, ANSI, and IBC codes in addition to all State and Local requirements if applicable. Volume pricing is available. To learn more click on the link below.