Emergency Elevator Telephones
Obtain your price quote now and receive our elevator phone data sheet for your reference. If you have any inquiries, feel free to contact us at 800-862-4001 and talk to one of our helpful MyLinkLine sales representatives.
MyLinkLine will only install elevator telephones that meet code requirements. We also comply with ADA, ASME, ANSI, and IBC codes.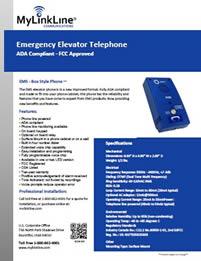 Elevator Telephones | Frequently Asked Questions
Are emergency phones required in elevators?
Yes, emergency elevator phones are required in all public elevators in the United States. Specific system requirements, including those for the answering service that responds to emergency calls, can be determined by referencing our code database, which provides information organized by state.
Are the elevator phones you sell ADA compliant?
The elevator phones we sell fully comply with ADA, ASME, ANSI, and IBC codes, in addition to meeting all other relevant state and local requirements.
What are the power requirements for elevator telephones?
If you choose a phone with a Cellular Connect device, we will require a 110-volt AC duplex outlet. While most of the elevator phones we offer are line-powered, some may require line power. If you're uncertain about which model would work best for your elevator system, we can assist you in finding the appropriate one.
What is the repair response time for elevator phone issues?
We strive to make most repairs on the same day or the next business day. In situations where immediate repair is necessary, we can even provide a loan phone while the repair is being carried out.
How long does it take to install a new phone?
Typically, we can install a new phone within two weeks of receiving payment and a signed monitoring agreement. However, we also offer rush service to accommodate urgent situations such as elevator inspections or emergencies.